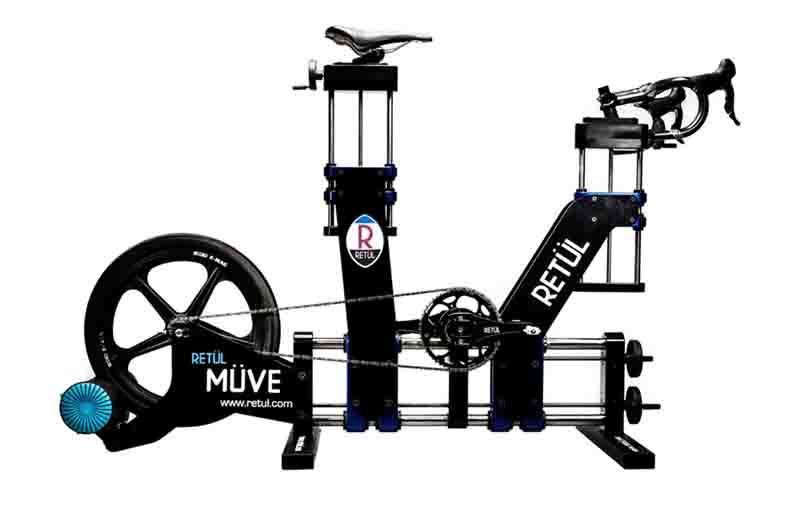 PRECISION BIKE FITTING
Bike Fit is a marriage of bicycle and rider. While the human body does an incredible job of adapting, it is our job as fitters to adjust the bicycle to the rider and not the rider to the bicycle. A rider should not be stretched or contorted to achieve the "ideal" or "Pro" position. Rather, the bicycle should be an extension of the rider and reflect his or her riding style.
Dynamic bike fit is better than static bike fit. Fit while pedaling under load must be considered when fine tuning saddle height and cleat positioning. Static formulas for deciding height do not take into account a riders natural ankleing pattern under load. As said before, "we must make the bike fit the rider", and not attempt to place the rider in a prescribed "ideal" or "Pro" position.
Cycling is a sport of repetition. A cadence of 90 revolutions per minute is roughly 5000 revolutions per hour. A six hour century would require 30,000 pedal revolutions. Obviously the positioning on the bike must be as perfect as possible to prevent repetitive use injuries, and this is why a precision fit is a must for even casual cyclists.
Body Geometry Fit Integrated Technology
We are proud to offer the Specialized BG FIT developed by Dr. Andy Pruitt and the Boulder Center for Sports Medicine for Road and Mountain bikes.
Advanced Structural Assessment
Advanced Range of Motion Assessment
Dynamic Saddle Height
Dynamic Saddle Fore/Aft
Dynamic Handlebar Positioning including Reach, Width, and Drop
Footbed Fitting
Advanced Cleat Adjustment
Including Hip/Knee/Ankle Alignment
Change Saddle or Stem if needed (parts are not included in pricing)
RETUL Motion Capture
Retül is based in Boulder, Colorado and has produced market leading bike fit technology since 2007. With backgrounds in cycling, triathlon, and mountain biking as well as engineering, biomechanics, and sports marketing, the folks at Retül combined their passions and areas of expertise to deliver motion capture bike fit to the retail market. We are proud to offer these fantastic tools to our clients.
$250 RETUL INCLUDES:
Pre-fit assessment
The Retül system eliminates the guesswork and assumptive nature of bike fit.
Retül promotes and encourages accurate and data-driven decisions for bike fit while considering the goals, individual biomechanics, strengths, and limitations of each rider.
Scheduling
Fitting appointments are available Monday through Saturday. The time it takes to complete a fitting will vary based on the clients needs, but generally takes about 2 hours.
TESTIMONIALS
I just wanted to drop you a line about your fitting service. I knew that my riding position was not quite dialed in and figured it just needed small tweaks. After spending just a few minutes getting measured, it became clear how far off my setup was. The fitting service absolutely delivered on all of its promises, allowing me to ride more comfortably and increase my average speed around 1mph! Even with the added cost of flying my bike in, it was worth every penny! Thank you for offering this invaluable service. Mark Kenny — Denver Colorado
I had been to several bike shops here on the eastside and have purchased several "high end road bikes" I had never been happy with the fit I received at those shops. I went to this website and read about the professional fitting service offered here. I purchased a Trek Madone 5.9 from another shop and the staff at Fraser Bicycle adjusted the bike so it fits like it was built just for me. I also purchased a Quintana Roo Seduza and it also fits perfectly. Finally a shop that knows what it is doing!! I wish I had come here first!! The fit is the most important thing!! Ben Talcott — Michigan